Writing From Live Art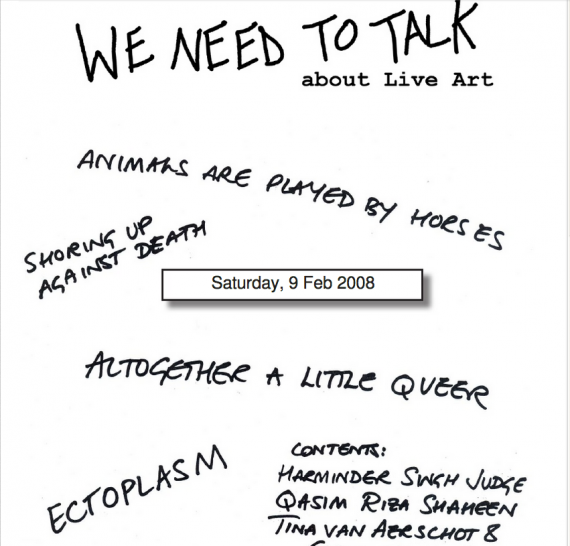 02 July 2006
Writing From Live Art was conceived to provide an opportunity for new writers, or writers who are new to Live Art, to engage with Live Art and performance work and to move towards seeing their writing in print. Writing From Live Art was specifically focused upon supporting writers to become established commentators on Live Art in the arts and mainstream press. The scheme encouraged writing that is critical but accessible, and sought to engage new audiences and readers through articles, reviews and debate.
Writing From Live Art was led by the artist and writer Joshua Sofaer. The scheme supported eight writers over two years and the participants were Tim Atack, Rachel Lois Clapham, Dany Louise, Rebecca May Marston, Mary Paterson, Theron Schmidt, Folake Shoga and Hazel Tsoi Wiles.
Over this time, the Writing From Live Art group enjoyed retreats, networking events with editors from Frieze, a-n, the Wire, Total Theatre and Dance Theatre Journal; undertook flash publishing exercises at festivals; interviewed artists and had regular one to one meetings with Joshua Sofaer. The group also conducted artist interviews, participated in panels at the Vital conference in Manchester and the New Writers conference in London, travelled to New York and Finland, established a series of blogs and created and managed their own website.
The writers on the scheme successfully achieved publication of their work both online and in the hard copy press with articles, interviews and reviews placed in a range of publishing points. For more information about the writers and to read writing that they produced on the scheme, please go to the archived site.
In March 2008, two of the writers, Rachel Lois Clapham and Mary Paterson launched Open Dialogues, a critical writing collaboration that encourages informed, accessible critical writing and debate on live art. Open Dialogues works with artists, galleries and festivals to foster critical communities online, in print and in person. For more information go to: www.opendialogues.com and www.open-dialogues.blogspot.com