China Live UK Tour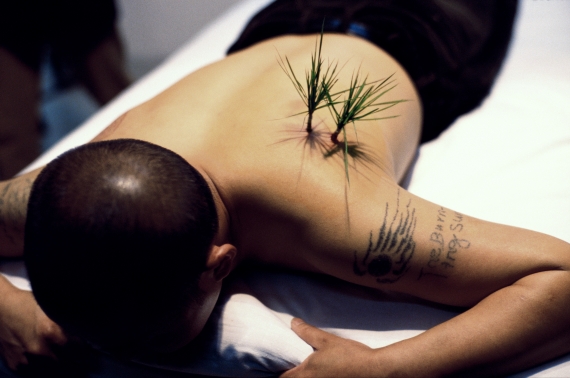 02 July 2005
China Live: Reflections on Contemporary Performance Art is available to buy from bookstores and Unbound.
China Live is a collaboration between Live Art UK, Chinese Arts Centre, the Live Art Development Agency and Shu Yang of the DaDao Live Art Festival, Beijing.
The project builds on exchanges that Live Art UK and Chinese Arts Centre have undertaken with China over several years, and continues collaborations with the DaDao Live Art Festival, Beijing to support and promote the work of Chinese artists in the UK and UK artists in China.
Download a PDF of the China Live tour leaflet.
China Live: Presentations of contemporary performances, actions and films
China Live: Presentations of contemporary performances, actions and films is a major UK tour of performances, film screenings and presentations offering audiences a rare opportunity to experience some of the visceral and challenging performance work being created by the current generation of Chinese artists.
From 13 to 28 October 2005, the China Live programme is touring to a diverse range of contexts and venues across the UK from galleries, museums, theatres and art centres to public sites and festivals.
Performances
Shu Yang 
Presentation on Chinese Performance Art and
Dialogue in Chinese Style
Shu Yang will present an illustrated talk on historical and contemporary Chinese performance and, in Dialogue in Chinese Style, will lead audiences through the China Live events and stimulate discussions about contemporary China with the aid of a giant Chinese Communist Party flag.
Born in 1969, Shu Yang is a curator, writer, festival organiser and performance artist. His performances often use iconic Chinese objects to draw audiences into explorations of communism, socialism and the current social situation in China. In 2004 he undertook an artist residency programme Breathe at Chinese Arts Centre in Manchester. Shu Yang is the co-curator of China Live.
He Chengyao 
Kiss
He Chengyao will invite members of the audience to join her at a table one at a time, randomly select a sweet or sour, Eastern or Western flavoured ice lolly, place one end in their mouth, the other in hers and suck until they can suck no more.
Born in 1964, He Chengyao is one of the few female performance artists in China. Her practice draws on her experiences as a woman in Chinese society and often creates intimate and experiential interactions with audiences to explore the intricate ties between us and traditional social doctrines of well-being. Her performance based photographic work has been widely exhibited in China and internationally.
Yang Zhichao
 Chinese Red
Using drops of his own blood, red ink, mineral pigments, and the silk used in traditional Chinese paintings, Yang Zhichao will paint his reflections of UK daily life. By combining elements of his own body with the spiritual properties of traditional Chinese materials his paintings will create stories imbued with soul and spirit: China-related, time-related and world-related stories.
Born in 1963, Yang Zhichao attempts to raise social issues through his performances and has achieved notoriety through extreme actions such as branding his ID number on his body, planting grass on his back, and surgically implanting objects in his leg and stomach. His work is concerned with the body, and how, in an age of science and technology, our bodies no longer belong to ourselves but to society and the state.
Zhu Ming 
Untitled
Zhu Ming will perform a series of contemplative actions within a huge transparent bubble. For Zhu Ming bubbles have the characteristics of both substance and emptiness and serve as a metaphor for the fragility of life and relationships. For the China Live tour audiences will see him cover the inner surface of the bubble or his own body with fluorescent powder, burning luminescent, evocative, and haunting images into our consciousnesses.
Born in 1972, Zhu Ming has performed and exhibited in many international Biennales and group shows, including the Between Past and Future photographic exhibition at the V&A London. His performance work deals with the passage of time, physical extremes, isolation and attempts at communication, or the futility and ephemeral nature of these attempts.
Wang Chuyu 
Material Files Of Sino-British Cooperation
With images of Chinese factories making goods for the UK market, images of Chinese artefacts housed in the British Museum, and cheap Chinese products bought in the UK, Wang Chuyu will consider China UK trade relations from the times of colonisation to the times of globalisation: a reflection on two kinds of history in two different countries.
Born in 1974, Wang Chuyu is a performance artist, writer, painter and curator. His work is informed by his life experiences and by changing social and political contexts: often expressing the tensions and conflicts between the reality of Chinese society in an age of globalisation and his own emotional responses. Wang Chuyu is the co-curator of the DaDao Live Art Festival, Beijing.
Film screenings
To accompany the live performances, the China Live film programme includes documentation of remarkable and often challenging site specific performance work from the last ten years.
Zhu Ming Unknown Area. With only a bag of beans, a sleeping bag and a video camera Zhu Ming travelled to the remotest region of China and walked for twelve days, stopping only when he encountered another human being.
Yang Zhichao
Selected Works. Documentation of extreme performance actions in which Yang Zhichao brands his ID number on his body, plants grass on his back, invites an audience member to stab him, and commits himself to a mental hospital.
Dai Guangyu 
Selected Works. Documentation of performance works involving often explosive actions using the artists own body and the traditional Chinese materials of ink and vases, from handstands where he delicately balances a vase of ink on his feet to shooting vases filled with ink from plinths with a gun.
He Yunchang
Selected Works.
Documentation of performances reflecting the 'ridiculous heroism' and extremity of He Yunchang's practice whether it be wrestling one hundred and one men, transporting river water upstream, casting himself inside a concrete block or playing outlandish drinking games with audiences.
Li Menguang Quote Out Of Context. In the long river of history, the life of a human being is so short it is like a drop of water in a rushing river'. Li Menguang scoops a bowl of river water and lies down to reflect on her capture of a moment of time and history.
Wang Wei
What Does Not Stand Cannot Fall. 
A team of itinerant workers are employed to build a brick wall around themselves within a gallery, and then tear it down.
The China Live touring programme is complemented by a new Chinese Arts Centre and Live Art UK bilingual publication including commissioned essays, artists' pages and statements, photo documents, and reflections on the experiences of China and its Performance Art scene by British artists who have recently undertaken residencies there.
Contributors include Shu Yang, JJ Xi and Yuan Cai of Mad for Real, Colin Chinnery, Aaron Williamson, Howard Matthew, Curious and Hayley Newman.
ISBN 0-9545440-3-X.
China Live: Conversations on performance and documentation
Victoria and Albert Museum, London
Friday 28 October 2pm - 5pm
Tickets: Full £8.50 (Concessions £6.50/£5) 
Events booking 020 7942 2211
 Bookings.office@vam.ac.uk
To complement the China Live performances during the V&A's China Friday Late and the exhibition Between Past and Future: New Photography and Video from China (showing at the V&A from 15 September 2005 - 15 January 2006), China Live: Conversations on performance and documentation will explore issues of performance and its documentation in photography and video. Speakers include the artist and co-curator of China Live Shu Yang, China Live artists He Cheng Yao, Wang Chuyu, Sarah Champion of Chinese Arts Centre, Lois Keidan of the Live Art Development Agency and UK based artists Hayley Newman and Dinu Lu.
China Live Tour Schedule
Throughout October 2005, China Live can be seen at the following venues.
Chinese Arts Centre
Manchester, Thursday 13 October
 - An opportunity to meet the artists and learn more about their practice.
2pm - 4pm
Tickets £5.00 (free to concessions). Market Buildings, Thomas Street, Manchester
M4 1EU
0161 832 7271. 
info@chinese-arts-centre.org
www.chinese-arts-centre.org
greenroom, Manchester, Thursday 13 October, From 6pm
Tickets £8 (£5 concessions) covers all events. 54-56 Whitworth Street West,
Manchester M1 5WW
 Bookings 0161 615 0500 
www.greenroomarts.org
Chapter, Cardiff, Saturday 15 and Sunday 16 October. As part of Experimentica 05, a unique and eclectic festival experience, featuring the work of over 50 artists making video, performance, film, sound and installation works (6 - 30 October).
 From 8pm each day
Tickets: £5 per day including day admission to Experimentica. Market Road, Canton, Cardiff
CF5 1QE. Bookings: 029 20304400 
www.chapter.org
Warwick Arts Centre, in collaboration with Fierce, Coventry. Tuesday 18 October. Film screenings from 2pm. Performances from 7pm
Tickets £9.50 (£7.50 concessions) covers all events. The University of Warwick 
Coventry CV4 7AL
Bookings: 024 7652 4524
 Book online: www.warwickartscentre.co.uk
BALTIC Centre for Contemporary for Art, Gateshead. Thursday 20 October
From 6pm
Tickets £5 (£3 concession) covers all events. South Shore Road, Gateshead
NE8 3BA. Information: 0191 478 1810 
Email: info@balticmill.com
www.balticmill.com
Bluecoat Arts Centre, Liverpool. Saturday 22 October. From 2pm Free. Please note that this programme of work will take place at various sites across Liverpool. For details of locations and times of performances and screenings, contact Cathy Butterworth at Bluecoat, 0151 709 5297 ext 19. Email cathy@bluecoatartscentre.com
Colchester Arts Centre, Colchester. Sunday 23 October. Doors 7.30pm show 8pm 
Tickets £6.00 (£3.50 concessions) covers all events. Church Street, Colchester CO1 1NF. Box office 01206 500900 
Web tickets available: www.colchesterartscentre.co.uk 
Full disabled access, hearing loop 
Directions and parking on our web site
Arnolfini, Bristol. Wednesday 26 and Thursday 27 October. As part of a mini-festival contemplating communications across borders with work by UK artists, Kira O'Reilly, Richard Dedomenici, Alex Bradley and Paul Hurley. Please see www.arnolfini.org.uk for full details of the programme, times and ticket prices.
16 Narrow Quay 
Bristol
 BS1 4QA 
Bookings 0117 9172300 
boxoffice@arnolfini.org.uk
 www.arnolfini.org.uk
Victoria and Albert Museum
London
Friday 28 October. China Live: Conversations on performance and documentation 
2pm - 5pm
 Tickets: £8.50 (Concessions £6.50/£5). China Live: Presentations of contemporary performances, actions and films. As part of China Friday Late, a night of contemporary Chinese culture, featuring live performance, photography, film and music. 6.30pm - 10pm 
Admission is free although some events may be ticketed.
Cromwell Road, London
SW7 2RL. Events booking 020 7942 2211
 Bookings.office@vam.ac.uk
www.vam.ac.uk
China Live is financially assisted by Arts Council England. The China Live publication has additional financial assistance from British Council Artist.