Selina Thompson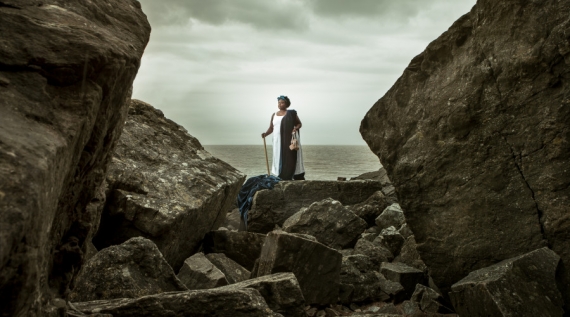 Selina Thompson is an artist and performer based in Leeds. Her work is playful, participatory and intimate, focused on the politics of identity, and how this defines our bodies, lives and environments. That might mean sharing stories from inside a huge ball of hair, building a giant dress out of cake, or spending 6 months with staff and service users in a busy job centre. Selina's latest project, Salt, has involved another extensive research process: talking to over 850 people about what it means to be Black and living in Britain today, before undertaking a sea voyage – 42 days on a cargo ship from the UK to Ghana to Jamaica – along one route of the Transatlantic Trade Triangle.
Selina is candid about the shift in tone for this project: "it's different to my other stuff – because I am different to who I was. I can't promise that it will be always funny and warm and fun, all those words we use to trick people into seeing theatre. I can't make those promises, and it scares me somewhat. I cannot promise you that the show will be a safe space, because the things it looks at are not safe – grief, ancestry, colonialism, slavery, and how all of this is taken into the body – these are profoundly perilous and unsafe things."
Salt looks at the physicality of post-colonialism, the weight of history, the constant labour of living in Britain as a person of colour, and how those experiences are taken into the body. "It's knackering, but I want to show how exhausting carrying history can be – that's why I'm taking these great big rocks and, by the end of the show, turning them to grains."
Following recent performances with Mayfest and Yorkshire Festival, Salt will tour internationally in 2018.
www.selinathompson.co.uk
Selina profiled in The Guardian
Categories: Featured Artist
Date Posted: 27 July 2016