ReROOTed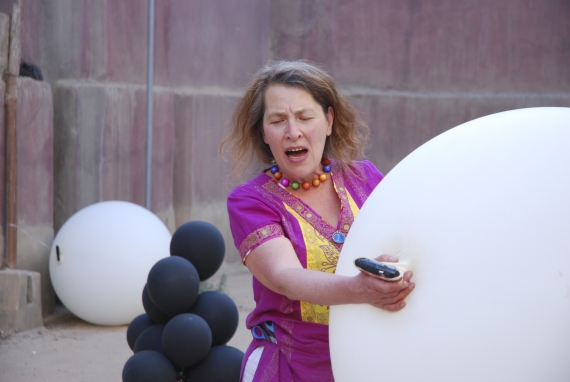 From 24 March to 26 March, live and media arts festival ReROOTed will take over Humber Street Gallery as part of Hull 2017, UK City of Culture.
The festival will reflect on the twenty year legacy of the former commissioning agency, Hull Time Based Arts (HTBA) and ten years of the Running Out Of Time (ROOT) Festival, encouraging us to question our relationships, our capacity for change and the possibilities that sprout as we re-root, transplant and grow.
To re –route is to send along a different path, to deviate, to re-orientate. ReROOTed is a détournement, a 48 hour take-over of a 'city-of-culture' space in order (as Guy Debord and the Situationists might have put it) to integrate past and present artistic production to create a superior milieu or social situation. ReROOTed is a celebration, not only of the past but of the present. We re-consider our time-base; our temporal, social and geographic contexts, noticed in the changes in our landscapes, in our bodies, in our connectivity. We question our relationships, our capacity for change and the possibilities that sprout as we re-root, transplant and grow.
ReROOTed is a curated event by Mike Stubbs and Gillian Dyson, an invitation to gather and share. Reflecting on the best practice and impact of artists work placed in the public domain during the glory days of Time Based Arts and the impact of independent arts practice on Hull.
In 2017 a "guerrilla" takeover of Hull's newest contemporary art space, ReROOTed will inspire artist-led interventions, performances, installations and conversations.
With: Alastair MacLennan, Alexandre Burton, Ann Whitehurst, Anne Bean, Dr Beatriz Garcia, Bioni Samp, Dani Abulhawa, Dave Lynch, Fran Cottell, FK Alexander, Filippos Tsitopoulos, Gillian Dyson, Graham Dunning, Ground Collective, Helen Kaplinsky, Hollington & Kyrprianou, Julie Bacon, Karen Christopher, LADA (Live Art Development Agency), Marcel Craven (Ground), Mark Waddell, Mark Titchner, Nina Edge, People Like Us, Rob Gawthrop, Joanna Millet, Roddy Hunter, Ronald Fraser-Munro, Ruth Levene, Simon Poulter, Third Angel and Tom Cassani
Highlights include:
– A video performance by Anne Bean (of the original Bow Gamelan music ensemble with Paul Burwell and Richard Wilson, who performed Drums Along The Humber on Hull's Marina in 1987) as part of the Performance Magazine Online Launch.
– A new durational performance work by Alastair MacLennan.
– HTBA founding members Joanna Millett and Rob Gawthrop making a 3D film projection event celebrating Europe.
– Fun and political intervention from revisiting artists Nina Edge, Vicki Bennett (People Like Us), Ronald Fraser-Munro and Ann Whitehurst.
– Irreverent performance art to stir things up from Gillian Dyson, Simon Poulter, and FK Alexander.
– Drystone waller Dave Lynch blockading Humber Street with redundant electronic equipment.
– Filippos Tsitopoulos creating masks and costumes made from fruit on the site of the original fruit market.
– A Tesla coil installation performance by Montreal artist Alexandre Burton.
– Original Ferens live art officer Mark Waddell placing obtuse haiku and other poetry into the public realm.
– Mechanical techno created by Graham Dunning through a workshop, and performed at a DJ night that also includes Bioni Samp.
– A launch of a new online archive of Performance Magazine which was published between 1979 and 1992.
– A programme of workshops, debates and round tables.
ReROOTed is brought to you in collaboration with Hull Time Based Arts (HTBA) and FACT (Foundation for Art and Creative Technology), with support from Leeds Beckett University. ReROOTed has been made possible with support from Arts Council England.
Categories: Featured Activity
Date Posted: 22 February 2017