Reflections on Compass Festival 2018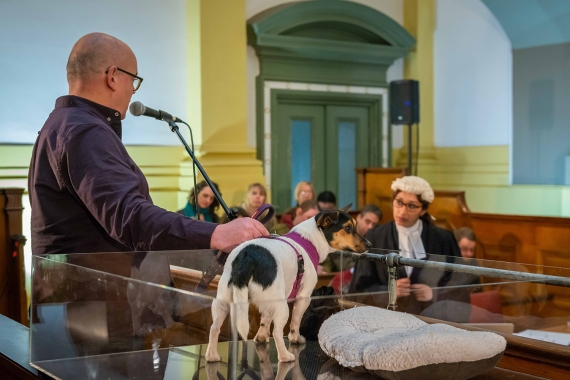 "We were pleased and proud of Compass Festival 2018, which saw 13 extraordinary live art and interactive encounters across Leeds over 10 days in 27 public settings and venues. We engaged with 13,300 people. All events were FREE continuing our commitment to making world-class live art available and accessible to audiences new and established.
But it's not about headline stats. The festival was particularly rewarding because we were able to realise our ambition of commissioning large scale in depth works: Jack Tan's Four Legs Good and Scottee's Would like to Meet; and seed smaller commissions that will develop in full over the next two years such as Etheridge and Persighetti's Public House.
Four Legs Good was an incredibly detailed work touching on legal personhood, immigration, right to representation and conservation. Leeds Town Hall corridors displayed evidence of what appeared to be a working Animal Court through signage, court leaflets, legal heritage displays, a court website and a special publication: Annual Review 2018 of the Animal Justice Court. The quality of exhibits was such that many visitors believed the Animal Justice Court to be real.
Three live 'moot' animal trials were held on Saturday 24 November. Practising barristers argued claims brought by or against animal clients, before a judge and jury at the old Victorian courtroom in Leeds Town Hall. R v Snoopy accused of aggravated sheep worrying – the dog Snoopy gave evidence in court while the sheep in question appeared through video link. An American signal crayfish appealed against a murder conviction in a case that hinged on the issues of invasive species. The dog Marla was charged with being a dangerous breed and her owner with being in charge of a dangerously out of control dog. The juries were made up of festival attenders who booked in advance, their deliberations were held in public to a packed gallery.
And Would Like to Meet was equally arresting in the care and detail involved. Growing up on a tight-knit housing estate Scottee noticed, when he moved to a suburban street two years ago, that his new neighbours didn't talk to each other. He made Would Like to Meet as a response.
After a citywide call out, dozens of Leeds people nominated their street to take part. Scottee was searching for a street where people felt they didn't really know their neighbours and were willing to get to know them better. He selected St Peter's Mount in Bramley, went to meet residents, interviewing them about themselves and who they would like to meet on their street. Two podcasts were produced from these interviews.
Hand painted estate agent style placards were created with all participating households and an exhibition of these ran throughout the festival.
The Compass Festival 2018 publication – supported by LAUK enhancement fund is about to be launched – look out on social media and our website for: Happiness, Loneliness and Animals, Reflections from the participants of Compass Festival 2018 by Chris O'Connor
With our eyes on quality of work and attention to detail we have 5 artists residencies this year including with Joshua Sofaer and Demi Nandhra that will have time and resources to develop into pieces for the 2020 festival. In August we're exhibiting the 1000 Handshakes between strangers collected during the festival. We've instigated an artist bursary scheme for local emerging practitioners to be mentored by the residency artists and ourselves. And just launched a Compass Graduate Award with Leeds Beckett University."
Annie Lloyd, Compass Live Art, June 2019
Categories: Report
Date Posted: 26 June 2019