Pecs Drag Kings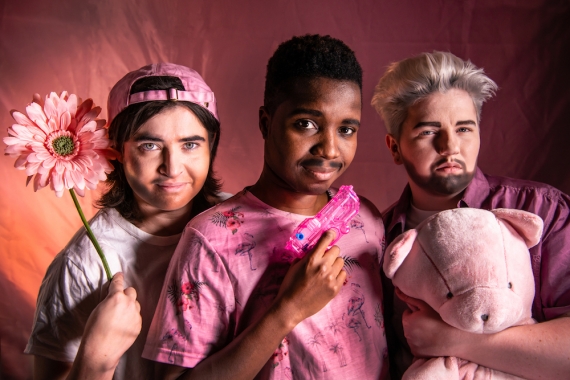 Pecs Drag Kings is an all-female/non-binary UK based performance company who have been creating explosive, critically-acclaimed shows for the LGBTQ+ community since 2013. They are a team of 13 regular collaborators and in the last 6 years Pecs have created 6 full-length productions that straddle Cabaret, Theatre and Live Art. In 2017 The 80s Show sold out the Soho Theatre and was nominated for an Off-West End award.
While drag queens are widely represented through RuPaul's Drag Race etc, Drag Kings and other drag identities remain relatively invisible, despite the urgent need for representation of trans people, non-binary people, butches, gender-nonconforming folk and other identities within the mainstream drag and queer arts world.
Pecs have performed to sold-out audiences at a huge range of venues, from theatres to festivals to pubs and underground community spaces. They seek to both support and champion the queer community through their work and carve out urgently needed queer cultural space within mainstream art institutions.
Pecs run "Mansformation" workshops to help as many people as possible explore their gender through drag, without pressure for this to lead to performance. They are guest facilitators for Soho Theatre's Young Company, run their own artists' programme, Drag Camp, and have helped drag kings receive greater attention in the mainstream media through features in Time Out, Vice, Evening Standard, BBC3 and a range of independent documentaries.
On 26 February, Pecs will debut SEX SEX MEN MEN at The Yard Theatre. The Yard's commissioning of this new 90 minute work, which will run for 3 weeks, marks a significant moment in Pecs' ambitions to bring the Cabaret and Live Art forms into a theatre context.
This new work explores how men express desire, gendered power dynamics, and fears of vulnerability. It celebrates masculine sexuality, dismantles shame & shines a light on toxic behaviours.
"We want our queer audience to feel seen, while introducing cis & straight audiences to new perspectives. We found that using performance art and 'straight' theatre were the best way of communicating our transgressive material to our audiences. Our usual lip syncs, comedy & dances are therefore mixed in with strip teases, verbatim text & sexual scenes, pushing the boundaries of our cabaret form."
Pecs are using SEX SEX MEN MEN to explore relationships with new audiences. Though it explores queer sexualities on stage and celebrates the queer community, now Pecs are investigating and interrogating masculinity for a universal audience; one which includes heterosexual cis-gendered men. Through this work they look to encourage everyone to think about their own relationship with sex, sexuality and masculinity.
SEX SEX MEN MEN is at The Yard Theatre from 26 February until 16 March.
Categories: Featured Artist
Date Posted: 26 February 2019