Fred Moten and Wu Tsang: Gravitational Feel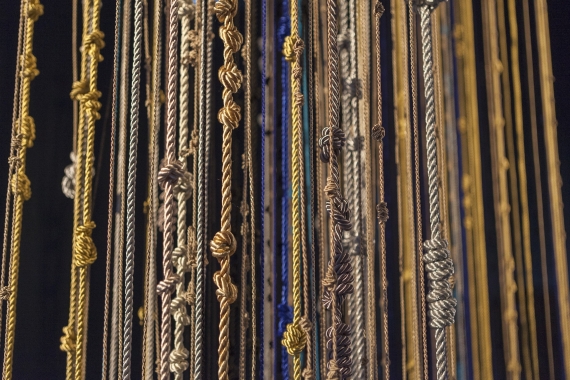 Complex ways of understanding our complex times. Maths & Poetics. Gesture & Physics. Collectivist Struggle & Desire.
Arika is a political arts organisation concerned with supporting connections between artistic production and social change. Located in Glasgow, Arika's public programmes are take the form of a series of 'Episodes'. Episode 10: A Means Without End includes 5 days of performances, discussions, screenings and study sessions about how the art and thought of collectivist desires, the complex flow of contemporary maths and the counterintuitive realities of particle physics help us grow the capacity to be one another's means without end.
Gravitational Feel is an installation by Wu Tsang and Fred Moten, curated by Arika at Tramway, Glasgow, this weekend.
When asked, Fred Moten might say that what people often think of as his poetic and philosophical thinking and writing — about fugitivity, blackness, blur — isn't his at all. It's better conceived as a temporary and fleeting emanation of open-ended friendships within the black radical tradition; queer and indigenous worldviews; the music of blackness; and sites of care. Most often, these have included Stefano Harney, Laura Harris or Wu Tsang, but also hundreds of others.
Wu Tsang is a filmmaker and performance artist who combines documentary and narrative techniques with fantastical detours into the imaginary in works that explore hidden histories, marginalised narratives, and the act of performing itself. Tsang re-imagines racialised, gendered representations beyond the visible frame to encompass the multiple and shifting perspectives through which we experience the social realm.
"Gravitational Feel is a kinetic sculptural performance. It is activated in movement and touch, in the mutual rub, shift and lap of its sonic, wooden, steel, textile and human material. As you mix the sound, in your movement in and across a circle formed by (squared) speakers, the ropes move, becoming strings in having been brushed and strummed by you. In their turn, in the turning of the rotaries from which they fall, the strings move you with their touch, just as in touching one another you move one another, either directly or by the messages you send from strand to strand. In this way, Gravitational Feel is an engine for intensifying the differentiation of our entanglement, continually programming itself through incalculable combinations of disruption and convergence. Your movements, which are neither destructive nor curatorial, are both deconstruction and cure. Therefore, Wu and Fred kindly request your steadfastly refraining from any attempt to be still." - Wu Tsang & Fred Moten
The exhibition opened 20 November, and runs until Sunday 24 November. Entry to the Installation is on a pay what you can basis. The programme features: Jay Bernard, boychild, Mijke van der Drift, Denise Ferreira da Silva, James Goodwin, Stefano Harney, Laura Harris, Nathaniel Mackey, Alexander Moll, Fred Moten, Arjuna Neuman, Nat Raha, Nisha Ramayya, Wu Tsang, Ueinzz, Jackie Wang and Fernando Zalamea
Gravitational Feel was commissioned by If I Can't Dance, I Don't Want To Be Part Of Your Revolution, as part of Corpus, network for performance practice. Corpus is Bulegoa z/b (Bilbao), Contemporary Art Centre (Vilnius), If I Can't Dance, I Don't Want To Be Part Of Your Revolution (Amsterdam), KW Institute for Contemporary Art (Berlin), Playground (STUK Kunstencentrum & M-Museum, Leuven) and Tate Modern (London). Corpus is co-funded by the Creative Europe Programme of the European Union.
Categories: Featured Artist
Date Posted: 20 November 2019