Amy Sharrocks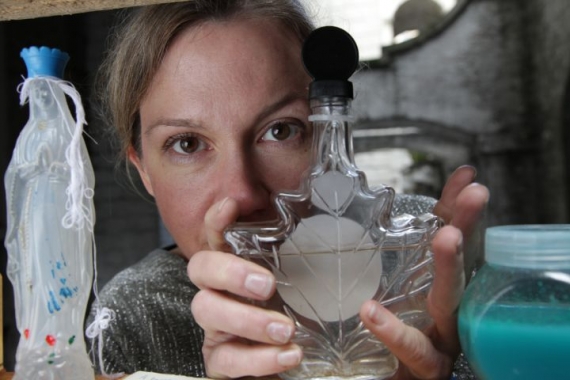 Amy Sharrocks is an artist who invites people to come on journeys in which their own experience, communication and expression are a vital part. Undertaking these journeys with a sense of humour, joy and risk, Amy creates work that is rich, unpredictable and different every time. This invitation and the bravery and invention of people's responses, produces new avenues for exploration and fantastic visions within the everyday.
In 2013 Amy began her widely acclaimed artwork Museum of Water, a vast and ever growing collection of publicly donated water and accompanying stories. The Museum started on a street corner in Soho, London, commissioned by Artakt and London School of Hygiene and Tropical Medicine. It was installed in the Dead House beneath the Somerset House fountains for four weeks as part of LIFT 2014, co-commissioned by Artsadmin and Imagine 2020. Still produced by Artsadmin, it continues to tour the UK and Europe: she is in the middle of a 2-year collaboration with the Rotterdamse Schouwburg to bring Museum of Water to The Netherlands. In 2014 Museum of Water was awarded a Special Commendation by the Nick Reeves Award for Arts, Water and the Environment and in 2016 was nominated for European Museum of the Year.
Amy is also widely known for SWIM, a live artwork in which she invited 50 people to swim across London from Tooting Bec Lido to Hampstead Heath Ponds on 12 July 2007. Next stop: Swim the Thames.
She is currently curating Do Rivers Dream of Oceans?, a mini festival of water across Reading for WaterFest, on 11 June, as part of Reading Year of Culture.
Additionally Amy is collaborating with Clare Qualmann and Dee Heddon on WALKING WOMEN, a programme of events about women, walking and art taking place this summer at Somerset House, London as part of UTOPIA, and at Drill Hall, Edinburgh, with Forest Fringe and Deveron Arts.
Categories: Featured Artist
Date Posted: 24 May 2016