SKIN in the GAME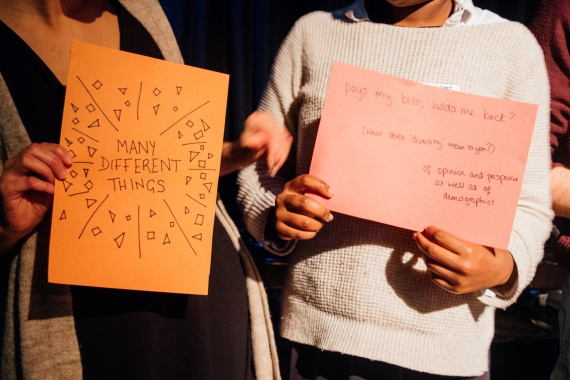 17 July 2019
SKIN in the GAME: Z-arts: Manchester
Thursday 28 November 2019
10.30 - 17:30 followed by performances 18:00-20:00
Please save the date for SKIN in the GAME, a day-long symposium and interactive event, curated by Diverse Actions on behalf of Live Art UK with support from Contact Theatre.
SKIN in the GAME marks the beginning of the culmination of Diverse Action's three year programme and will be a day of provocations and discussions by Black, Asian and/or Minority Ethnic artists, leaders, academics and organisations. Together they will interrogate diversity initiatives and how these tropes and mechanisms of archetypal structures may feed into an ecology of ghettoisation and stagnation within the cultural and wider political landscape. In 2019, marginalised artists are questioning why cultural spaces still need to be reserved for representative making and leadership. SKIN in the GAME is not another 'diversity day' and will not attempt to provide utopian resolutions to these questions, but will create an open and safe space for discursive honesty that will shape the future of Diverse Actions as a sector-wide development programme and inform wider UK programming initiatives.
SKIN in the GAME will be hosted by Z-arts (Manchester) which has an accessible lift and an audio induction loop in the theatre. There will be live BSL Interpretation throughout the event. We will provide a designated quiet space for the full event and travel bursaries for personal access assistants. We have a limited number of bursaries for marginalised artists and leaders travelling from outside of Manchester and will announce information about application procedures for these in September 2019 alongside full programme and booking details.
More about Diverse Actions:
Diverse Actions is a three-year Live Art UK initiative, supported through Arts Council England's Ambition for Excellence fund, championing culturally diverse ambition, excellence and talent in Live Art.
SKIN in the GAME is supported by Z-arts and Contact Theatre.
More information on Diverse Actions.