Live Art Almanac Volume 2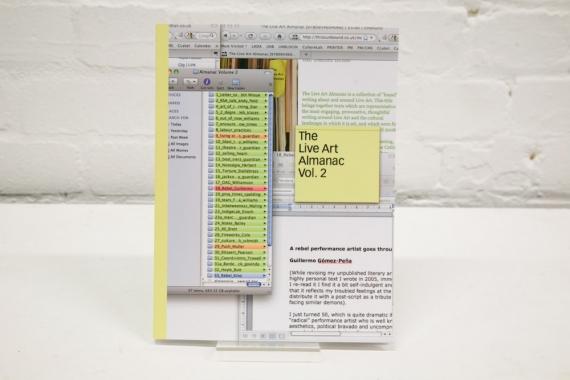 02 July 2011
The Live Art Almanac Vol. 2 is a new collection of found writing from 2008 and 2009 about and around Live Art. It brings together texts from a variety of UK and international sources, which are representative of some of the most engaging, provocative and thoughtful writing about Live Art and its cultural landscape.

Contributors: David A Bailey, Guy Brett, Gavin Butt, Helen Cole, Wesley Enoch, Andy Field, Lyn Gardner, Guillermo Gómez-Peña, Manick Govinda, Matthew Hearn, Simon Herbert, Lucas Ihlein, Bridgit Istim, Jonathan Jones, Nick Keys, Carol Kino, Caleb Kraces, Astrid Lorange, Arthur Lubow, Jason Maling, Paul Morley, Rabih Mroué, Lizzie Muller, Mary Paterson, Mike Pearson, Theron Schmidt, Aleks Sierz, Alistair Spalding, Julian Stallabrass, Jane Trowell, David Vaughan, David Williams (Australia), David Williams (UK), Aaron Williamson.

Published by Live Art Development Agency and produced in partnership with Live Art UK, Performance Space 122 and Performance Space.
The Live Art Almanac Vol. 2 is available to buy on Unbound for £7.50